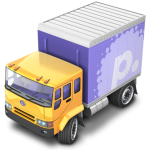 Panic's Transmit is the best FTP app for OSX, by far.
While the new kid on the block, Forklift (which I also own) may have a bit faster transfers & more (admittedly great) features, Transmit makes up for it in overall ease of use, and most importantly, reliability of transfers. I've had Forklift repeatedly botch transfers with some SFTP servers, which is unacceptable for a file transfer type of app.
Plus, Panic is a wonderful Mac developer (e.g. Transmit is Applescript-able, Forklift is not) that I'm glad to support. You can buy it from the App Store, or directly through Panic's site.
PS: If a paid FTP client isn't your thing though, Cyberduck is nimble & free. [via]